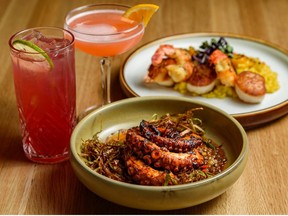 Reviews and recommendations are unbiased and products are independently selected. Postmedia may earn an affiliate commission from purchases made through links on this page.
Article content
There are restaurants in Calgary that get a lot of short-term buzz and then there are others that have earned a longstanding loyal clientele that keeps them busy night after night. Mercato, the unapologetically boisterous restaurant in Mission that grew out of the Caracciolo family's long-running Italian market falls into the latter category, attracting fans of impeccably prepared Italian food and friendly hospitality for the last 17 years.
Article content
Owner Dominic Caracciolo has developed other restaurants over the years, including the much-missed Bocce and Wurst, and also has a hand in the still-thriving Mercato West, which is primarily overseen by his sister Franca Bellusci. Shortly before the pandemic struck, Caracciolo started toying with the idea of developing a sister restaurant to Mercato, naming it Sorella (the Italian word for "sister") before he'd even come up with a concept. He thought about doing a traditional red sauce joint or a standalone version of the takeout pizzeria he's been running out of the back of Mercato, but the name seemed to dictate a lighter and more delicate take on Italian food and culture.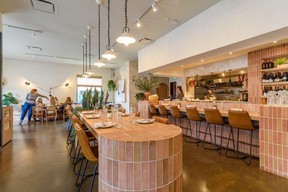 Caracciolo found a space in Crescent Heights right on Centre Street and not far from Bridgeland, where his mother "Mamma" Cathy and late father Victor raised their family and opened their original grocery store almost 50 years ago. Sorella is far enough from Mercato that Caracciolo isn't exactly competing with himself, but he still wanted to make sure it was noticeably different in both cuisine and atmosphere. The 50-seat room (there's also a nice rooftop patio overlooking the street) designed by Nam Dang-Mitchell is simultaneously elegant and rustic, with artfully distressed walls, soft banquettes, and pink and terra cotta accents. It's got the potential to get loud and lively, but the freshness of the room lives in stark contrast to the hearty bravado of Mercato.
Article content
"We wanted it to be the feminine version of Mercato," Caracciolo says. "Mercato is about big dishes like the bistecca; everything is served on a board there with huge portions. Sorella has smaller portions — it's more vegetable-forward and there's a lot of fish on the menu."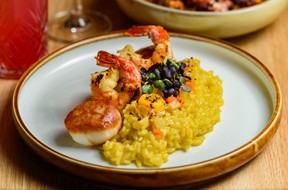 Whereas Mercato boasts big steaks and heavier pastas, chef Jackson Miller, the former sous chef at Mercato, does indeed take a more subtle approach at Sorella. The small plates selection includes a whole roasted tomato filled with an entire burrata and doused in basil oil, to be spread on lengths of crisp bread ($24) and béchamel croquettes (yes, fried balls of béchamel) cut with a tangy tomato jam ($15), with the menu moving into cauliflower served with a classic cacio e pepe sauce ($15), bright spaghetti al limone with confit garlic ($18), and skin-on branzino with zucchini and crispy capers ($44). Don't be mistaken — the Sorella version of "lighter" fare is still irresistibly rich and Italian to the core but is a little different than what most Calgarians think about when it comes to Italian food.
Article content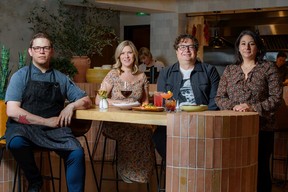 Sorella's cocktails also offer a refreshing take on Italian-centric ingredients and flavours, with lots of Campari, amaro, and limoncello behind the bar, as well as a good variety of wine and some beer, including a limone blonde ale brewed for the restaurant by their Crescent Heights neighbours Two Pillars Brewery.
Sorella is located at 1036 Centre St. N. and can be reached at 403-470-1425 or through sorellatrattoria.ca. The restaurant is open Tuesday through Sunday for lunch and dinner, with plans to launch an Italian-style weekend brunch soon.
***
Some exciting food events are coming up in Calgary. First up, the Barley and Smoke beer and barbecue fundraiser for Kids Cancer Care to be held at Enmax Park on Aug. 27, recently announced its lineup of local restaurants and breweries competing in this year's event. Guests will get to sample food from places like Pink Door Pizza, Whiskey Rose, Cluck 'n' Cleaver, and Rodney's Oyster House and beer from local brewmasters at The Establishment, Tool Shed, Born and Annex Ale, among many others, all competing in categories like Best Ribs, Best Food and Beer Pairing, and Best Beer. Tickets for Barley and Smoke go for $95 each, with the option of a V.I.P. upgrade, and include all food and beer samples. For tickets and more information, visit barleysmoke.ca.
Article content
Food fanatics and industry professionals can also look forward to the prestigious Terroir Symposium, which is making its return to an in-person event by shaking things up and holding its conference in Calgary for the first time. The three-day meeting of hospitality minds typically takes place in Toronto but from Sept. 18 to 21, it will touch down in our city, likely to attract culinary professionals from around the country (and beyond) while giving our local restaurants a significant boost. Keep an eye on this space for more Terroir-related news in the coming months, but for now, keen industry pros and interested onlookers looking to join the discussion about the future of the hospitality industry can buy early bird tickets until July 15 at terroirsymposium.com using the code EARLY22.
Elizabeth Chorney-Booth can be reached at [email protected]. Follow her on Twitter at @elizaboothy or Instagram at @elizabooth.